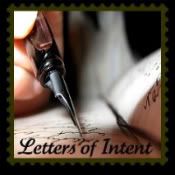 I know my letters are posted early this week (sorry, Julie!), but I really needed to get this off my chest. I think you'll understand.
Dear HP,
It's been a long day. I've retraced in my mind just about every scenario of what could have happened ... what I could have done ... any action I could have taken to make things turn out differently.
It's been exactly 32 hours and 11 minutes since I found you sitting lifeless on the coffee table when I woke up Monday morning. I thought I heard you wheezing the night before but you seemed OK. So I went upstairs, ignoring your heavy grumblings and slumbered.
My heart never could have been prepared for facing the white lines of death displayed across your face when I gently tried to stir you awake by caressing your mouse touch pad. At first, I thought, perhaps you just needed to recharge your batteries -- maybe you needed a little R&R. I know the night before we had been engaged in some pretty intense e-mail discussion and Twitter banter. So I checked your power supply. Sadly, though, it was more than needing a little recuperation. I tried turning you off, turning you again and again and again. You whined a little, gave a few grunts and then succumbed to the white light. I knew it before I even called the IT doctor; you had left me. But those squiggly white lines across your screen didn't stop me from frantically phoning the IT doctor and asking for him to immediately come home and preform emergency open-hard-drive surgery; he's still with me, I sobbed. He's still lit up. There's a green bar that's loading and loading and loading. He can be saved. The IT doctor remorsefully suggested that even though I could see signs of life, that it was probably just the end. He suggested I pull the plug, remove your battery.
I paced the floor. What to do? What to do? The IT doc firmly pressed, "Just do it. If there's any hope of salvaging any of the files, you need to remove the battery."
And so I did. Your little light faded and then finally your dusty face went blank.
It was the end. I'm so sorry, HP! So sorry! I didn't know that when the 2.5 year old dropped you on the floor that you hadn't just suffered a minor concussion; rather, your brain had completely hemorrhaged. Had I known, I would have insisted the IT tech operate immediately.
It's hard to blog with out you. This keyboard, it's just not the same -- it's so much more smooshed than yours. And the screen? It's just so clean and unsmudged. I guess that's what I get for using a white-collar computer who doesn't understand the daily demand of blogging and Twitter and e-mail and Facebook ... one who's only used to run SAP data loads at the hands of a man who stares blankly in the face of social media.
But really, HP, thanks for the [320 GIG of] memories. I hope your eternity is filled with lots of hot motherboards with big CPUs.
Lovingly,
Hyacynth
Dear friends,
As I mourn the passing of my beloved HP, please cut me a little slack if I'm not able to come visit your blogs much this week. I'm computer less during the day, and I have to use the stuffy-face computer at night while the IT doc breaths down my neck to make sure that all of my strange social media thingamajigs don't give his Dell a heart attack.
I will be back as soon as I find a suitable replacement.
Tearfully,
Hyacynth