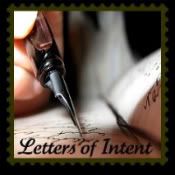 Dearest G.W.W., my oldest son,
I'm so glad you had such a great time today when I took you and your little brother to the indoor bounce gym.
We had a great time, really. Er. Mostly.
I love that you made friends with another little boy your age and said little boy's grandmother.
I am thrilled that you actually talked to them with out me encouraging you to talk.
And I'm pretty much over-the-moon excited about how your little friend inspired enough courage in your usually cautious self to crawl through the tunnels suspended from the ceilings.
However, dear one, I'm not sure I feel so great about you telling your little friend and his grandmother that your name is actually Jasper and that G. isn't really your real name after I've been calling you G. all afternoon in front of them.
And I don't appreciate your telling her during the one time I have to turn away from you and chase your brother down that your mommy doesn't call you G., she calls you Jasper.
As if I were not your real mother, who does, in fact, call you G.
Yes, I'm so glad I caught the tail end of the conversation so I could clear this up for you:
I *am*, for the record, your real mommy.
You saying such things kind of makes it look like maybe I've kidnapped you instead of having birthed you from my own body.
Or like maybe I've completely lost my marbles and don't know my oldest son's name.
Nonethelss, the truth was akward enough, as I sputtered to try and explain: you call yourself Jasper because you think the bad guys in 101 Dalmatians are the cat's pajamas.
It's a little hard to tell nice strangers that you look up to the villains in movies so much you wish you were named after one of those villains.
I'm sure that's exactly the sort of influence grandma wants running around with her grandson at a bounce gym.
In fact, the truth Option
C.), You idolizing bad guys
really doesn't sound all that much more appealing than options
A.) me having kidnapped you
or
B.) Me being insane.
Because option
C.) You idolizing bad guys
kind of makes it seem like your mother hasn't honestly tried to impart any morals or values into your little brain at all.
And, admittedly, that does make mommy feel mostly like Option
B.) Me being insane
is really what's true.
Your little friend's grandma did take it all in stride, chalking it up to your imagination. Thank goodness she was a really nice woman.
But she and your new friend did leave rather quickly after that.
In short, please stop referring to yourself as Jasper.
Or Option
D.)me locking you in the house until your villain phase and imagination phases are no longer occurring simultaneously
will promptly be implemented and executed.
Love,
Your *
real
* mommy