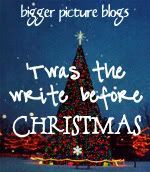 Day Six Prompt:
Starry Night - by Vincent VanGoh


Starry Night
As little hands cradle a baby in hay,
move sheep across the vast, desert carpet



mingle angels with camels
and huddle sheppards and wisemen
'round the brand new babe,


we piece together
very small,
very tiny glimpses
of that very first
starry night
when heaven came down to us


gave us Hope
unbridled,
Peace
unlimited,
something to really
write home about,
something to really
go tell on the mountain,
over the hills
and on the living room floor.

Want to check out other pieces from today's prompt or maybe link your own? Visit our linky!