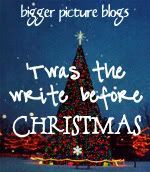 Day Two Prompt: "Underneath the mistletoe last night ..."

It's a two-hour long dance in the making.

She shifts left, two steps, salsas, turn, sweeps screaming small child off his feet, clicking her tongue and shushing her toddler's cries.

He moves stage right, three steps, stops, sambas left again, stirs the soup while calling the oldest to wash his hands before dinner.

They slide, dip, slide past each other, bodies moving, never meeting in an attempt to fill small tummies with dinner before little eyes grow too heavy.

They dance separately in the same spaces from the time he walks in the door until she walks out just as the little ones are heading upstairs to slumber.

He notices the green, dangling above her head.

And briefly.

Ever so briefly.

Before he herds the little ones up the stairs and she flies out the door, their bodies move closer, lips meet, a short, slow Rumba underneath the mistletoe last night amid the chaos of fast-paced dances ... the one Christmas decoration that might need to find a permanent place year round to serve as a reminder to slow down, enjoy the music.

Well, I'm admittedly more than a little inspired to go buy a mistletoe. ;)

To read other 'Twas the Write Before Christmas pieces or share you own, visit Day Two's linky.