Thick like clover that's overtaken almost every inch of grass in the backyard, toys are nearly coating every inch of the hardwood floors throughout the living and dining rooms.
I can barely see any brown patches of floor through the limbs of rescue hero action men, small lions and giraffes that have escaped the confines of Noah's ark and books that have been emptied from the cabinet.
This mess? It's not just cluttering my living space, it's cluttering my brain.
"It's a cleaning party!" I declare while pumping some music into the living room.
G willing joins in on the straightening efforts and begins hauling some of his over-played toys to the basement while E, in all of his very babyzilla ways, scurries around trying to empty whatever baskets and buckets we've just filled.
G, in a moment of frustration, tries to gather and haul all of the ark animals E just spilled back onto the floor away from his destructive younger brother.
As he struggles to snuggly tuck each of the animals into his arms, zebras spill over the confines of his elbow and horses tumble from the pocket made of chest and preschooler arms.
"EEEEEEEKKKK!" he squeals, completely exasperated at the shear number of animals he's trying to carry in his still-small arms. "I keep dropping them!"
"Honey," I frankly explain. "You don't have to carry everything at once. There are just too many animals for your arms. Here, let me help you."
Willingly, he hands over the elephants, black bears and camels, taking only what he can easily transport back to the ark.
He smiles and says, "Thanks. I had waaaaay too many animals."
****
I am a preschooler with too-full arms.
But, unlike G, I've been living with adult-like stubborness.
I've been trying to carry too many responsiblities in my arms, and I've continually found myself growing frustrated as one or another would spill past the confines of my elbows or slip between the pocket created by two folded arms against my chest.
Worst of all, those responsiblities that were spilling from my arms were actually blessings -- relationships. Simply, I'd been meeting the demands of my packed-to-capacity schedule but only at the expense of my relationships.
Because my children are persistant, they've rarely been neglected by super-busy mommy.
However, I can't say the same for my marriage with John. Or my relationships with extended family. Or my friendships with women I love and value.
Through the constant noise of a life lived in the continual flow of committment, it's been hard to hear the whispers stirring in my soul let alone monitor the pulse of my stretched relationships.
Lucky for me, God's voice is louder than my busyness.And He's been speaking to my heart, saying "Child, you don't have to carry all of that at once. Here. Let me take some of it."


So I've been handing those committments off, one zebra, one elephant at a time.
It hasn't been easy letting each one go, but I know I've been trying to carry way too many animals.
And now that my arms are less packed, I'm learning to really give thanks for and really carry the ones I'm still holding.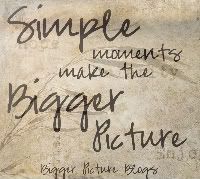 Every Thursday, we share the harvest of living intentionally by capturing a glimpse of the bigger picture through a simple moment. These are the moments that could easily slip through the fingers of our memories, but we choose to linger on them, tattoo them in our minds.
Because living intentionally takes work, we come together to share and encourage others who are also seeking to be present and remember the moments that make up the bigger picture.
Grab the button to dress up your post, link your capture below and then be sure to visit at least the two who have linked before you.