Amid the hectic days, it's easy to lose sight of those simple moments that lead us toward seeing the bigger picture.

Every Thursday we come together to share a small moment from our week that begs to be remembered, captured instead of simply forgotten. We hope you'll consider your week and share your moment with us, too. Feel free to link below, grab the button for your blog and then share the love by visiting others who are journeying toward living intentionally.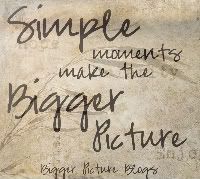 I feel it.
On the warmth drenching my sun-starved cheeks.
And I hear it.
In the way the birds sweetly sing back and forth in an increasingly steadfast song.
Oh, and I sense it.
In the long shadows produced by the extra light of lengthening days.
In the energy wound up, wrapped around the muscles of small legs that long to run beyond the walls of our home.
In my very soul, a feeling of newness thick in the early damp March air.
Though I don't yet see the obvious signs yet -- the gradations of green among grass blades or tiny flowers birthing through the clumps of damp farm field-- like wet soil, I am soft with the hope of new life.
Spring is coming.
And not just outside.
But in my heart, in my head, too.
"As long as the earth endures, seedtime and harvest, cold and heat, summer and winter, day and night will never cease." Genesis 8:22
**This post is also linked with
Thought-Provoking Thursdays
at
Some Girl's Website
. Visit
Michelle
if you'd like to read more encouraging pieces.**